Inside the new Battersea Power Station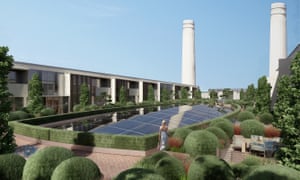 Pop veteran Sting, celebrity survival expert Bear Grylls and 1,400 Apple office workers will soon be neighbours – living and working alongside each other at Battersea Power Station.
The £9bn project to revamp the Grade II listed building - more than it cost to build the stadiums and stage the 2012 London Olympics – is the centrepiece of a mile-long development of offices and apartment towers on the south bank of the Thames stretching from Vauxhall to Chelsea bridge.
After four years of construction, the development is now starting to take shape and the first 100 residents have just moved in to a luxury apartment complex alongside the main building, called Circus West Village. And for the first time in 90 years the power station's riverfront, with a new piazza and parkland, is now accessible to all.
The former power plant won't open its doors to the public for shopping and leisure until 2020, when a new tube station, called Battersea Power Station, comes online to whisk workers, visitors and the development's well-heeled residents into the West End or the City in less than 15 minutes.
A glass lift is to be built to take visitors to a viewing platform atop the power station's landmark white chimneys, where they will have sweeping views across the river from a height of more than 100m (330ft).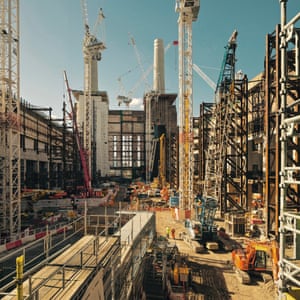 A new concert venue for 2,000 people is also in the works, while the former control room A will be marketed as a cultural venue.
Most of the 253 luxury apartments atop the power station have already been sold off-plan. Studio flats – with no separate bedroom – started at £800,000. One-bed flats started at £1m while four-bedroomed family apartments cost at least £4m.
The three penthouses have yet to be priced, although the rumoured £25m-£30m price tag may have to be scaled back as demand for high-end property in the capital dips.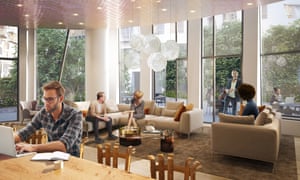 Some locals, however, have strongly criticised the project, questioning the social and economic benefits to the area.
Keith Garner, a local architect and member of the Battersea Power Station Community Group, described the power station plan as "soulless and generic". He wanted more affordable homes included, and to see cultural and educational institutions included – like an annexe to the South Kensington museums or top-level sports facilities such as an Olympic-size pool.
However, Rob Tincknell, who runs the Battersea Power Station Development Company, says the luxury homes are necessary to pay for the former power plant's restoration.